Outreach is a very important part of how we view science. Here are a couple initiatives that we're part of:
Community Outreach
From the website:
Project MICROBE was developed by a collaboration between Dr. Rachel Whitaker in the Department of Microbiology and Dr. Barbara Hug in the Department of Curriculum and Instruction at the University of Illinois at Urbana-Champaign.
Students engage in a series of inquiry-based activities in the Project MICROBE unit to learn about microbes from the three domains of life (Eukarya, Bacteria, and Archaea).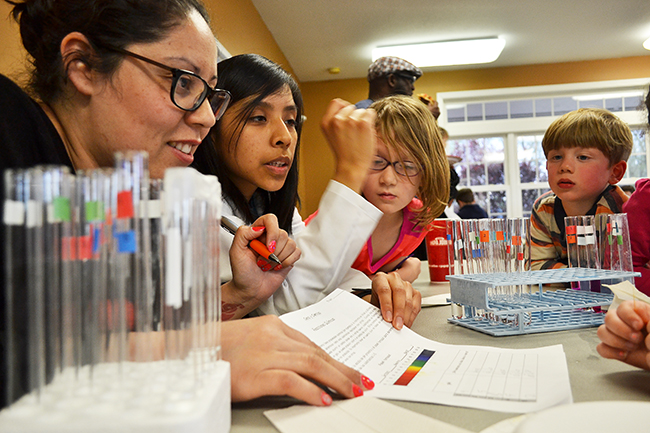 Cena y Ciencias has been recognized "for its unique ability to get elementary age children in the Spanish speaking community excited about science." Here's an article describing the efforts – http://www.istem.illinois.edu/news/cena.ciencias.html
Marine Biological Laboratory – Microbial Diversity Course
Rachel is a current co-director of the Microbial Diversity course , which takes place every summer at the renowned Marine Biological Laboratory in Woods Hole, Massachusetts. "The goal of the course is to teach professors, postdocs and advanced graduate students how to discover, cultivate, and isolate diverse microorganisms catalyzing a breadth of chemical transformations, as well as how to perform molecular and computational analyses relevant to their study."  Students often come out of this course with enough material to publish scientific papers and meet lifelong friends and collaborators. The course is taught by a stunning lineup of faculty from around the country and the world.