As a student chapter we believe it is important to be able to visualize the concepts we learn in our courses so we frequently visit both drinking water and wastewater treatment plants. We have also made it our mission to gain as much insight to what it will someday be like to be a professional engineer in fields focused on water. In our quest for knowledge, we have been fortunate to have the opportunity to take office visits to engineering consulting firms that specialize in water and wastewater design. We find these visits to be extremely insightful. Below highlights our trips to these treatment plants and offices.
Winter 2019
This winter break a group of 7 WEF members visited the CDM Smith and Greeley and Hansen offices in Chicago to learn more about careers in the consulting field.
October 2018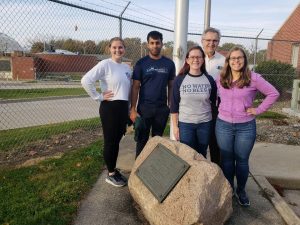 This fall a group of WEF-AWWA members got to visit the Urbana wastewater treatment plant to see some real-world applications of concepts from classes.
Winter 2017
Over winter break we visited both CDM Smith and Greeley and Hansen offices in downtown, IL.
Winter 2015 (Chicago, IL)
We visited the Greeley and Hansen Chicago, IL office once again. First, we toured their headquarters and were able to talk to their engineers. We also had the opportunity to participate in a panel of some of their recently graduated civil engineers. They provided some insight into their transitions from students to professionals and what types of projects they got to work on, and gave us advice on what we could do to be more prepared for the workplace and make the most out of our college experiences.
Fall 2015:
We toured the Illinois American Water Lincoln Avenue Water Treatment Facility. This plant treats much of the water for the Champaign area and is very close to UIUC's campus. It is always amazing to see the processes our water goes through before it ends up coming from our faucets!
Winter 2014:
We had the opportunity to tour the Greeley and Hansen downtown Chicago, IL office. During our journey, we were able to meet several professional engineers, learn about how the office functions on a daily basis, learned a lot about the company and the types of opportunities they provide and had a chance to chat with the office director about how we can someday make an impact as professionals coming out of school. Overall, we had a great experience and enjoyed the opportunity to take a step into the life of a consultant for a day.
During this trip, we had the great opportunity to take a personal tour of the Evanston, IL Drinking Water Treatment Plant. We were able to learn about the history of the Evanston plant and the "conventional treatment" processes that the plant incorporates. Through our tour we learned about the coagulation/flocculation mixing processes, the sedimentation basin (the settling of suspended solids) and filtration methods.

Fall 2014:
We toured the Bradley Avenue Illinois American Water Treatment Plant with Elizabeth Doellman. The plant was completed as a design-build process, is LEED certified, and utilizes many innovative treatment technologies.

We also had the opportunity to tour the Lincoln Avenue Water Treatment Facility. The Lincoln facility is much closer to UIUC's campus, and is the oldest of the plants in Champaign. Elizabeth Doellman again showed WEF members the facility.