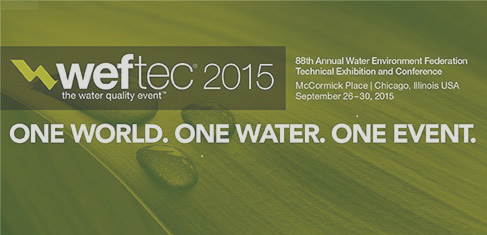 We attended WEFTEC 2015 in Chicago at the McCormick Place. On Sunday, September 27th, many of us took the train from Champaign to Chicago and upon arriving we decided to grab some breakfast at Yolk.–a fantastic place for brunch. We then ventured around the city, checked into our hotel, and rested up for the night's festivities. Some of us took a peek at the Student Design Competition. That night we attended the CSWEA/IWEA Reception at the Hilton Chicago.
The next morning many of us woke up bright and early to get to the conference, attend technical sessions, and explore the exhibition hall. We were also fortunate to have a bus coming from the UIUC campus as a one day trip to WEFTEC! We were able to take a short break from the conference and meet some fellow students from other schools in the University Student Lounge. Monday afternoon we were able to spend time networking and learning about different companies at the Students & Young Professionals Networking & Career Fair. The rest of the day was spent at the conference and then attending several networking receptions: the Black and Veatch Student Appreciation Night at New Line Tavern and the WEF Young Professionals Reception at Carnivale. Both events were great for many of us as we were able to meet other students, professors, and professionals from across the world. It was really fantastic to learn more about different students' experiences and learn about professionals' career paths and advice about the industry. We then said goodbye to our friends who took the bus and went back to our hotel.
Tuesday morning we arrived at the conference and attended many different technical sessions. It was hard to choose between the sessions since there were so many interesting topics! After an eventful day, we met up at Ceres Cafe and then headed to Union Station.
We had a fantastic time at WEFTEC 2015 and look forward to next year in New Orleans!