If you are sticking around for a Champaign-Urbana summer, you'll have no shortage of festivals and events. We have the scoop on the most popular festivals you won't want to miss, plus a few cool tips for summer in CU.
Homer Soda Festival – Saturday, June 3 10am-7pm


Taste the rainbow at the Homer Soda Festival! Purchase 10 tasting tickets for $4 or choose unlimited tastings for $15. While you're tasting dozens of pop flavors you never knew existed, like Americana Huckleberry or Prickly Pear, enjoy music, art, a Classic Car show, food, and a BBQ cook off. Grab a friend with a car and head out to Downtown Homer for this classic annual event!
Uncork Urbana Wine Festival – Saturday, June 10 3-10pm


For $15 admission, you receive a souvenir wine glass and 7 tasting tickets (5 tickets if you purchase admission at the door!). With these tasting tickets, attendees can try wines from a number of regional wineries! This is a Glambana event you can't miss. Don't forget: this year it's been moved to the well-loved Meadowbrook park rather than its downtown Urbana location of previous years. This year will also feature local live music, food trucks, and live cooking demonstrations.
StreetFest – Saturday, June 10 and Saturday, July 15 7pm-Midnight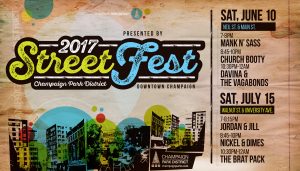 After Uncork Urbana, head to downtown Champaign for StreetFest! Or, if you won't be around June 10, catch it the second time around on July 15. StreetFest is an annual free music and food festival featuring local bands and food. So why is it called StreetFest? Yup, it's on the street! So join your friends on the corner of Neil & Main or Walnut & University to listen to bands that call CU home.
Blues, Brews, and BBQ Festival – Friday, June 23-Saturday, June 24


This two-day festival in Downtown Champaign celebrates local breweries, music, and BBQ. The lineup hasn't been announced yet, but if you're a fan of blues, be sure to check their website for updates about this year's festival!
Taste of Champaign-Urbana – Friday August 18-Saturday, August 19, 5pm-11pm and 11am-11pm


Taste of Champaign-Urbana is an annual opportunity to celebrate local restaurants, art, beer, and music in West Side Park. Entrance to the festival is free, but purchase tickets to spend at food vendors. The entertainment list will be out in July! If you're a runner, you can also join in on the Pie Run in West Side Park, then reward yourself with a good meal.
None of these are your jam? Looking for something else? There's always something to do in CU! Check out the Champaign Farmers Market Tuesdays 3:30-6:30 or Urbana's Market at the Square on Saturdays 7am-noon.
If you still don't know what to do this summer, visit the Urbana Park District and Champaign Park District websites to find more events and summer fun! And, of course, if you're ever bored, come enjoy the air conditioning at the UGL with a board game or a great book.