Finals are almost here!

The end of the semester is so close, and yet, it seems so far away. If you are like me, you are probably in dire need of some lighthearted content, and a book to ease your woes. I hope this post can help with both.

Thanks to Lin Manuel Miranda's Netflix documentary Mucho Mucho Amor: The Legend of Walter Mercado, I have had the pleasure of connecting with a neglected part of my heritage: the legacy of the great Walter Mercado. Who is he, you ask? Walter Mercado was a visionary, a person who, by refusing to subscribe to gender normative labels, broke through the barriers of machismo to become one of the most famous celebrities in Latinx culture. When I was a kid, he had his own TV Show, where you could tune in to listen to your horoscope, delivered by Walter in a swoosh of bedazzled robes with as much flair and vivaciousness of an actor on stage. It didn't matter if you believed in the signs or las estrellas, you couldn't help but wait silently for him to read your horoscope. In many Latinx households, it was part of their daily routine.

After watching the documentary, I decided to combine my love of books with this new found interest and bring to you recommendations based on your zodiac sign. I might not be Walter Mercado but I promise I will do my best. Alas I will be dressed in not quite so bedazzled robes but trust me I will be reading las estrellas with the same flair that he did.
Las estrellas:
Aries (March 21-April 20)
You are courageous, confident and enthusiastic. To complement your sense of adventure and curiosity, I recommend the Seven Deadly Shadows by Courtney Alameda.
What is it about? 
Seventeen-year-old Kira Fujikawa has never had it easy. She's bullied by the popular girls in school. Her parents ignore her. And she's also plagued with a secret: she can see yokai, the ghosts and demons that haunt the streets of Kyoto. But things accelerate from bad to worse when she learns that Shuten-doji, the demon king, will rise at the next blood moon to hunt down an ancient relic and bring the world to a catastrophic end.
Taurus (April 21-May 20)
You are practical and well-grounded. At times a bit stubborn, but loyal and responsible. You always rise to the challenge. I recommend They Could Have Named Her Anything by Stephanie Jimenez. 
What is it about? 
Racism, class, and betrayal collide in this poignant debut novel about restoring the broken bonds of family and friendship.
Gemini (May 21-June 20)
You are curious and enjoy tasks that are mentally engaging. You can be a bit indecisive but are quick to learn and adapt to new circumstances. I recommend a suspenseful book to keep you engaged such as When No One is Watching by Alyssa Cole.
What is it about? 
Finding unexpected support from a new friend while collecting stories from her rapidly vanishing Brooklyn community, Sydney uncovers sinister truths about a regional gentrification project and why her neighbors are moving away.
Cancer (June 21-July 22)
You are characterized by your tenacious and sympathetic nature. You can be a deeply intuitive and sentimental person, because of this I recommend a book that will pull on your heartstrings such as A House of Happy Mothers by Amulya Malladi. 
What is it about? 
In trendy Silicon Valley, Priya has everything she needs; a loving husband, a career, and a home. But the one thing she wants most is the child she's unable to have. In a Southern Indian village, Asha doesn't have much. She and her husband can barely keep a tin roof over their heads. But she wants a better education for her gifted son. Pressured by her family, Asha reluctantly checks into the Happy Mothers House: a baby farm where she can rent her only asset, her womb, to a childless couple overseas. To the dismay of friends and family, Priya places her faith in a woman she's never met to make her dreams of motherhood come true.
Leo (July 23-August 22)
You have all the makings of a leader: self-confident, creative and dramatic. Just remember to be conscious of those around you. Listen and care for your people. For you I recommend Untamed by Glennon Doyle.
What is it about? 
In her most revealing and powerful memoir yet, the activist, speaker, bestselling author, and "patron saint of female empowerment" (People) explores the joy and peace we discover when we stop striving to meet others' expectations and start trusting the voice deep within us.
Virgo (August 23-September 22)
You are hardworking, practical and analytical. Usually people will characterize you as detailed oriented, often leaving nothing to chance and ensuring that you have a plan. Sometimes you can focus too much on work and you forget to take care of yourself. Rest, explore and have some fun! For this, I recommend the book Eleanor Oliphant is Completely Fine by Gail Honeyman.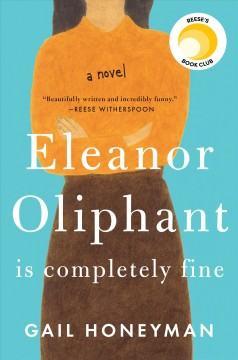 What is it about? 
A socially awkward, routine-oriented loner teams up with a bumbling IT guy from her office to assist an elderly accident victim, forging a friendship that saves all three from lives of isolation and secret unhappiness.
Libra (September 23-October 22)
Of all the signs, Libras tend to be diplomatic, fair, and peaceful. You tend to value partnership deeply therefore you invest a lot in your relationships.  Remember not to shy away from confrontation, communicating openly with those around you can be very beneficial. For you, I recommend Conversations with Friends by Sally Rooney.
What is it about?
Devoting herself to an intellectual life and the self-possessed lover with whom she performs spoken-word poetry readings, a college student is drawn into the lives of a sophisticated journalist and her husband before the increasingly intimate relationship tests the boundaries of her resolve
Scorpio (October 23-November 22)
Scorpios are characterized by their resourcefulness and bravery. When you have a question or are curious about a topic, you will research until you find a satisfactory answer. For this reason, I recommend the thriller The Sanatorium by Sarah Pearse.
What is it about?
Accompanying family members to an isolated Swiss Alps hotel to recuperate from a traumatizing case, a woman detective uncovers the fates of long-ago tuberculosis patients who went missing from the property years earlier when it operated as a sanatorium.
Sagittarius (November 23-December 21)
You are known for being generous, curious, and energetic. You approach life with an open mind and would gladly engage in a philosophical conversation on the meaning of life. For your sense of adventure and philosophical nature, I recommend The Midnight Library by Matt Haig.
What is it about?
Somewhere out beyond the edge of the universe there is a library that contains an infinite number of books, each one the story of another reality. One tells the story of your life as it is, along with another book for the other life you could have lived if you had made a different choice at any point in your life. Nora Seed finds herself faced with this decision. Faced with the possibility of changing her life for a new one, following a different career, undoing old breakups, realizing her dreams of becoming a glaciologist; she must search within herself as she travels through the Midnight Library to decide what is truly fulfilling in life, and what makes it worth living in the first place.
Capricorn (December 22- January 19)
This sign is characterized by its responsible and disciplined nature. Your ability to learn from your mistakes, and revise your plans, makes you an asset to any team. Use your expertise to uplift others, and to lend them a hand. I recommend The Overdue Life of Amy Byler by Kelly Harms.
What is it about?
Overworked and underappreciated, single mom Amy Byler needs a break. So when the guilt-ridden husband who abandoned her shows up and offers to take care of their kids for the summer, she accepts his offer and escapes rural Pennsylvania for New York City.
Aquarius (January 20- February 19) 
You are known for being an intellectual person, you can be independent but you love helping others. You enjoy your space and your alone time. It helps to recharge your battery. For your me-time, I recommend The Invisible Life of Addie Larue by V.E. Schwab.
What is it about?
Making a Faustian bargain to live forever but never be remembered, a woman from early 18th-century France endures unacknowledged centuries before meeting a man who remembers her name.
Pisces (February 20-March 20)
You are friendly, and have no trouble connecting with different people. You are generous, compassionate and caring. All of these characteristics make you a very intuitive person. Trust your intuition when meeting new people, it will lead the way. Because connecting with people is your jam, I recommend Bird Summons by Leila Aboulela. 
What is it about?
Three active members of a Muslim Women's group take a road trip together to the Scottish Highlands, where each confronts the contrast between their hearts and their realities.
Enjoy the books for your star sign, as well as others on this list! Many thanks to the wonderful Nicole, whose passion for all things astrological guided this blogpost. 
I hope that you finish the semester strong and in the words of Walter Mercado: "Que reciban de mi siempre paz, mucha paz pero sobre todo mucho, mucho, mucho amor"*
*Translation: I hope that you have peace and that you receive a lot of love in your life
Written by: Sylvia
Posted by: Maurissa