Nino Alania – Georgia
Nino Alania comes from Georgia. She has been teaching English as a Foreign Language for almost 15 years. She received her Doctoral degree in Social Sciences. Having worked in various teaching contexts, she has become a teacher trainer. Her academic interests include promotion of teaching learners to evaluate and assess situations critically, discussing or debating about real life problems, leading learners to build the characters of citizens who appreciate and stand for true values. Her other interests involve behavioral psychology and cross-cultural communication
---
Julie Bonin – France
---
Natalia Braguez de Paiva Balla Santos – Brazil
Natalia Braguez dos Santos is from Rio de Janeiro, Brazil.  She has been working as an EFL teacher for 16 years since graduating from UFRJ, Federal University of Rio de Janeiro. She also earned her Master's degree in Applied Linguistics at the same University. She has experience teaching undergraduate college students of English Language as well. Additionally, she works at a private University called FEUC where she teaches English morphology.  She is a public servant, and one of the public schools where she teaches is the first bilingual public school in her state.
---
Milka Cerovic – Montenegro
Milka Cerovic, an English language teacher, is from Niksic in Montenegro. She has been teaching for about ten years. She works as the lead teacher and tutor in the English Access Microscholarship Program. Other responsibilities at school include being an ICT coordinator, the president of the school board, the member of the team for professional development at school level, coordinator for entrepreneurial learning and member of different commissions. Besides that, she is actively involved in projects connected to peace education. She is a teacher trainer on social issues and English language. She has an active role in English Language Teachers' Association of Montenegro as the board member and newsletter editor.
---
Deependra Chaulagain – Nepal
Deependra teaches high school in Kathmandu in addition to giving lectures at Ratna Rajya Laxmi Campus and Kaplan in Kathmandu.  He holds a Master of Arts and Master of Philosophy in Population Studies in addition to a Master of Public Administration.  His research interests include social justice, regional disparity and conflict in Nepal, urban development in Nepal, and good governance for development, among others.
---
Mahua Dasgupta – India
MahuaDasgupta holds a Master's degree in Economics from Patna University, India and is presently pursuing a PhD in Economics on the topic "Role of Self Help Groups in Inclusive Growth of Bihar." She has also been teaching Social Studies and Economics for almost 15 years in a Delhi Public School, Patna. Currently, she serves as the LEAD teacher and is managing the Department of Economics in different branches of Delhi Public School in four different cities. Apart from teaching Economics to students grades 9-12, she is responsible for framing the course description, planning supportive learning activities and organizing lesson plans. She also develops academic programs to train newly recruited teachers. She aims to prepare the students to be agents of social change and make them well equipped with the essential skills of leadership and intellectual thinking. She has been involved in multiple rural immersion programs to sensitize her students towards rural life and give them an opportunity to practice methods of social research.
---
Zenia Dbouk – Lebanon
Zeina Dbouk is an educator in Beirut-Lebanon, and has a BA and a teaching diploma in English language from the Lebanese University and has completed her masters courses in education. Various educational trainings about concept-based curriculum, inter-cultural citizenship education, and many educational themes, and having taken more than 3 online courses with Oregon State University and The British Council has equipped her to become a teacher trainer in the south region. She is currently a high school language teacher, a teacher trainer, a Theory Of Knowledge coordinator, and a curriculum developer at Houssam Eddine Hariri High School (HHHS). She is also a university instructor at the Lebanese International University (LIU), and a trainer at the Lebanese Association for History Educators in Lebanon (LAH).
---
Osnat Dumen – Israel
Osnat Dumen, an English teacher, lives in the Western Galilee in Israel. She has been teaching English for the past sixteen years. Osnat holds a B.A. in English literature and language and a MEd in English teaching. She is the English coordinator at her school and an active member in the board meetings. She also is a member of the English Teachers' Association of Israel and has participated as a speaker in their conference.  
Osnat perceives her role as an educator as well as a language teacher. She believes in promoting learners' independent learning and life skills for healthy and happy living. As part of her beliefs, she has just completed her diploma studies at the Israeli branch of the International Planned Parenthood Federation (IPPF) to become a group counsellor providing people with sexual and reproductive health information.
---
Mady Fina Ngafouta – Chad
---
Maria Gatti – Argentina
---
Giang Hoang – Vietnam
In 2002, Giang received a Bachelor of Arts at Thai Nguyen University of Education and a Master of Arts in English Linguistics at the University of Languages and International Studies, Ha Noi National University, Viet Nam in 2008. After graduation from the university, he worked as a teacher of English at a secondary school for six years and a half, from 2002 to 2008. In 2009, he moved to Nam Dinh Teacher College and has been teaching English there since then. He has also been working as a teacher trainer at the same college for two years. He is now the Dean of the Department of Foreign Languages, Nam Dinh Teacher College.
---
Aksana Huminskaya – Belarus
Aksana graduated from Baranovichi State University in 2003 where she earned her master's degree in pedagogy.  She worked as a teacher of English in Nesvizch pedagogical college and later in Baranovichi State University. From 2013 until the present, she has been working in Gymnasia №1 (Baranovichi, Brest region) as a teacher of English. She conducts research work with her students that is connected with English and culture of English-speaking countries. She's deeply interested in methods of teaching developing democratic competences. She also organized an English drama club where they perform plays of American and English playwrights.
---
Nigel John – Papua New Guinea
Nigel holds an Honors Degree in Arts (Literature) from the University of Papua New Guinea and a Bachelor Degree in Education (Secondary Teaching) from the University of Goroka in Papua New Guinea. He is currently the deputy principal-administrator of Wawin National High School in Morobe Province of Papua New Guinea and has 15 years of teaching experience.
---
Lisa Mave – New Zeland
---
Chrysanthi Michlizoglou – Greece
Chrysanthi Michlizoglou lives in Thessaloniki, a beautiful city and port in Northern Greece, and she is currently working in two schools in two towns. She holds a BA in English Language and Literature and a MEd in Teaching English as a Foreign/Second Language. She has extensive teaching experience in teaching English as a Foreign Language to both children and adults, as well as English for Specific Purposes to adults and English for Academic Purposes to Greek and international students.  She is currently working on the development of lessons and educational material based on literature and cultural issues. Her interests also involve literature reading and theater.
---
Alice Stella Nakangu – Uganda
Alice Stella Nakangu was born in Mubende (currently Kiboga) in mid-western Uganda, a district that was at the heart of the 1980-85 National Resistance Army guerrilla war. Stella graduated from Nkozi National Teachers' College with a Higher Diploma in Secondary Education specializing in History and Geography. She has fourteen years of teaching experience in the most rural hard-to-reach area of Uganda. She currently serves both as the Director of Studies and a Classroom Teacher at Bamusuuta Senior Secondary School in Kiboga Town Council where she teaches History of East Africa & African Nationalism, and Geography of North America. Besides her teaching responsibilities, Stella uses her position as the Senior Woman to impress upon the girl children the values of education, community service, and skills of the head, hand, and the heart.
---
Amblesil Njekwei – Cameroon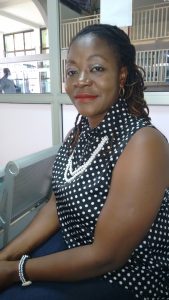 Amblesil Njekwei is from English speaking Cameroon. She studied history and citizenship in the Higher Institute of Teacher Training, University of Bamenda. She graduated in 2001 with a higher diploma in history and citizenship. She has been teaching citizenship, Africa and World history in a public high school for 15 years. She has been involved in training student teachers on internships from the Higher Institute. Her other area of interest is developing a new curriculum to suit the context of an emerging Cameroon
---
Apostolos Poulios – Greece
Apostolos Poulios holds a BA in English, an MA in Theoretical and Applied Linguistics and a PhD in Sociolinguistics, all from Aristotle University of Thessaloniki. He is also a certified teacher of piano and music theory. He has been teaching English in state secondary schools since 2008. He is currently teaching English, History and Musical Theatre at Ilion Music School. He explores ways of integrating music, films/video, theater and literature into his language teaching. Apostolos has also been involved in pre-service and in-service teacher training and has published papers in conversation analysis, age studies, media discourse, foreign language teaching/testing and the history of Greek musical theater.
---
Claire Ravez – France
Claire has been teaching social studies (history, geography and civic education) in a French public senior high school – the Lycée Fabert, located in Metz, in eastern France – since 2008. Her classes are taught mostly in French but also in German and English, as she also teaches  in dual language programs, called 'binational' and 'European' sections in France.  An alumna of the Ecole Normale Supérieure Lettres et Sciences Humaines (Lyon), she holds a B.A. in History with a Minor in Geography, a M.A. in History and a complementary university degree in French as as Foreign Language. She received two general teaching certificates ('CAPES' and 'agrégation'), then specialized in CLIL (content and language integrated learning) as soon as she became a trainee teacher, obtaining teacher certificates in subject teaching in German and English. Her current professional interests primarily focus on teachers' continuing education and bilingual / intercultural education. In her free time, she enjoys reading, watching movies and series and traveling abroad.
---
Fanyaga Yeo – Cote d'Ivoire