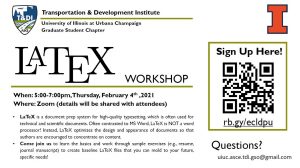 We are excited to kick things off in 2021!
We will be having our first workshop of the semester on February 4th. The workshop will be about LaTeX, which is a document preparation system for high-quality typesetting and often used for technical and scientific documents.
You can sign up HERE to receive all the specifics closer to the date.
Please, feel free to share the flyer and let us know if you have any questions.