September is a big month for pre-law students–scroll through to see why.
Our Fall Event Calendar is posted! Here's a preview of what's coming up.
Perfecting Your Personal Statement and Resume for Law School–Tuesday, Sept.19, 4-5pm. The personal statement is one of the most difficult yet powerful elements of the law school application. Join us for this workshop, which will cover what the personal statement is, how to prepare for writing it, and some tips and suggestions for making it reflect an applicant's strengths. We will also discuss how the personal statement and resume can complement each other to create a stronger law school application. Each session is the same, so select the one that best suits your schedule. Register here for this session.
The Pre-Law Honors Society is now taking applications! Here are membership requirements for joining:
1. Student must have a cumulative GPA of at least 3.30/4.00
2. Student must have completed 30 hours of campus credit prior to initiation
3. Student must complete 10 hours of community service each semester
4. Students must attend every meeting unless they emailed the board before the event with reason why they could not attend.
LAW SCHOOL APPLICATION WEEK is coming! Join us for any or all of these events!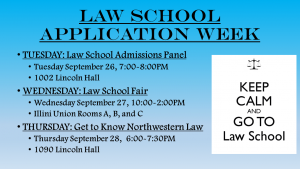 Law School Admissions Panel–Tuesday, Sept. 26, 7:00 pm in 1002 Lincoln Hall. Are you wondering what law school admissions professionals really look for in an applicant? How do they weigh LSAT scores, grades, or work experience? What gets their attention–and what would make them deny someone? Join us for this expert law school admissions panel to discover this and more. Participants will have the opportunity to ask questions. This is a must-see event for anyone considering applying to law school!
Panelists include:
Law School Fair–Wednesday, Sept. 27, 10:00 am-2:00 pm in Illini Union A,B,C Rooms. It's the biggest pre-law event of the year as 105 law schools visit campus to meet all who are interested in applying to law school. Learn about law schools, scholarships, and the application process while meeting the people who will be reading your law school applications. Application fee waivers and other freebies will be available. Stop by or stay the whole time! This event is free and open to the public. For more information click here to visit our website. No registration required.
Get to Know Northwestern Law–Thursday, Sept. 28, 6:00 pm in 1090 Lincoln Hall. Interested in Northwestern Pritzker School of Law?  Join us as Assistant Director of Admissions Sarah Rewerts discusses The Northwestern Law Difference.  Sarah will also share her inside perspective on Northwestern Law's admission process, including:  the Early Decision program; the interview process; the recent decision to begin accepting the GRE (for the Fall 2019 entering class), and more!  This is a great opportunity to get to know Northwestern Law and to have your questions answered!
Campus Events
Constitution Day Panel Discussion: Legal Perspectives on Charlottesville will be held at the College of Law (Max L. Rowe Auditorium) on Sept. 15 from 12:00-1:00 pm. This event is free and open to the public, and lunch will be provided to attendees. Click here for more information.
The School of Information Sciences will be hosting an inaugural Fall 17 Open House event on Friday, September 15th. Anyone interested in the program—MS in Library and Information Science should attend. For details of the event please click here: http://ischool.illinois.edu/events/2017/09/15/ischool-fall-open-house
Fall Family Fest–Sept. 17th from 12:00-2:00 pm at Orchard Downs Community Center, 510 Huff Drive, Urbana. Attention student parents! The Women's Resources Center and Orchard Downs Family and Graduate Housing are housing a family-focused social for student parents and their kids! Join us for games, food, crafts, a music show (sing-a-long), and resource fair for parents! This event is free and open to the public.
LER.Masters.Students.InfoSession The School of Labor & Employment Relations will be hosting an Informational Meeting on its Master of Human Resources and Industrial Relations program on Thursday, Sept. 28 from 5:30-7:00 in the Labor and Employment Relations (LER) Building, 405 E. Armory, Room 35. Dinner will be provided, and participants will learn more about a career in human resources along with application requirements to start the program. Click on the link for more details.
Career Center Events—Click here to visit the Career Center's website for more information or to register for these sessions.
CC-I Information Session, Sept. 11, 4:00 pm
Creating Your Powerful Resume

Sept. 11, 4:00 pm
Sept. 12, 4:00 pm
Sept. 13, 5:00

Career Fair Prep

Sept. 11, 5:00 pm
Sept. 13, 4:00 pm

Resume/Cover Letter/Linked In Review

Sept. 12, 2-4:30 pm
Sept. 14, 2-4:30 pm

Meet Handshake, Sept. 13, 3:00 pm
Finding an Internship, Sept. 14, 4:00 pm
Applications are due Sept. 12 for the Fall 2017 Career Certificate-International Students program. Click here for more information.  
College of Law Opportunities for Pre-Law Students

Prospective Client Volunteers Needed–Please consider volunteering to play the role of a prospective client with a possible legal issue for students in CFI: Interviewing, Counseling & Fact Investigation.  Volunteers are needed on September 13, 14, 27, and 28 at varying times.  You will meet with and be interviewed by your lawyer for approximately 15-20 minutes.  You will be given the fact pattern for the role you volunteer to play.  Please consider signing up for multiple sessions.  To volunteer or for additional details, contact Angela Martin (aymartin@illinois.edu).  Feel free to refer any non-law, or undergraduate friends.  Your time is greatly appreciated!
PAID Video Operators Needed– The Trial Advocacy Program needs video operators for the fall semester on Tuesdays and Wednesdays evening from approximately 5:30/6:00 p.m. – 8:30/9:00 p.m. at the Champaign County Courthouse, Urbana.  You can choose to do one evening a week or both evenings.  The pay is $8.25/hour.  For full job details and requirements, please contact Angela Martin (aymartin@illinois.edu).  Feel free to refer any non-law or undergraduate friends.
We've collected 275 scholarships–for both undergrads and incoming law students–on our Scholarships Spreadsheet over on our Pre-Law Compass page. It's a wide variety of scholarships based on everything from being left-handed to making a video to tweeting, and deadlines vary, so check it out!
It's NOT too early to start looking for spring/summer internships today! We post internships on our blog and our Facebook page. Check out this blog post for a plan on how to start finding spring and summer internships this fall.
Now is a great time to check out–or join–all of our pre-law resources! Click the links to explore. You can also search this blog for posts about the LSAT, law school applications, resumes, internships, and more!