Researching law schools can be a difficult task. The amount of information available on the internet can be overwhelming. One resource that we have found can help in the research process is Law School Transparency (LST). The website (http://www.lawschooltransparency.com/) provides a one-stop shop for various types of law school related information from job prospects to LSAT and GPA ranges.
LST offers more sources of information than we can reasonably cover in this space, but we would like to give you a few pointers for navigating the site.
First, click the link above, which will bring you to this page and click on "What We Do":

Next, click on "LST Reports":
Once you enter "LST Reports" you can register: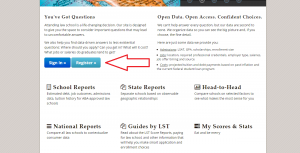 In addition to registering, this page also gives you access to multiple types of reports:
Check out more of Law School Transparency when you have an opportunity. The site offers much more than what we have briefly shown you today. Take some time to play around on LST because it offers important information that may help you to make important decisions such as what law schools to apply to, where you are most likely to be accepted, and what schools will offer you the best chance of success as a student and beyond.
Good luck with your research!