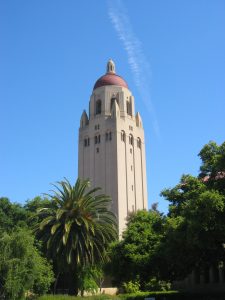 I've always had a soft spot in my heart for Herbert Hoover. I had the opportunity in college to do some research in the Hoover archives as part of a senior thesis. Though his presidency was not a success, there is much to admire in the rest of his life, both public and private.
When I moved to the Midwest, I was able to visit his birthplace in West Branch, Iowa. It's a national historic site, managed by the National Park Service (NPS). The site preserves about a dozen historic buildings to give you a sense of what it was like for Hoover to grow up here. Next door you'll find his presidential library, managed by the National Archives and Records Administration. Taken together, these two sites are an Iowa gem, well worth a visit – and convenient, just off Interstate 80, east of Iowa City.
Though I like the site, it tends to present President Hoover's self-image more than his actual history. Following Hoover's self-image, the National Park Service here interprets its subject as the ultimate American success story — orphaned at age ten, a boy from small-town Iowa succeeds through education, hard work, and faith. After becoming a millionaire by age 40, the story goes, he turns to public service and eventually reaches the presidency.
There's a lot of truth in that story. Even so, a critical perspective requires that we look more fully at the political setting of this national historic site and the stories it tells. The site's history begins just after Hoover was elected President in 1928. People began to visit West Branch, and Hoover's wife, Lou Henry Hoover, wanted to provide something to celebrate her husband's achievements. After exploring several options, the Hoover family bought his birth home in 1935 and began to restore it. They worked with a private group in which Herbert's son Allan played an important role. That group operated the site as a memorial and public park, following the family's wishes for the site, until Congress made it a national historic site in 1972.
Herbert Hoover was involved in planning this site over these years. That legacy shapes park planning today. For example, two of the five "fundamental resources and values" reflect Herbert Hoover's own decisions, the gravesite location and its vista over the birthplace cottage. President Hoover chose that vista to show "that anyone can start from a simple life and achieve great things"
Interpretation throughout the site emphasizes Hoover's view of himself and his personal history. Hoover believed strongly that America provided great opportunities for the self-made man. A central theme found in several locations is Hoover's statement that,
"My country owes me nothing. It gave me, as it gives every boy and girl, a chance . . . In no other land could a boy from a country village, without inheritance or influential friends, look forward with unbounded hope."
The NPS continues that theme. It invites visitors to "discover how family, faith, education, and hard work opened a world of opportunity—even the presidency—to a man of simple beginnings." It claims that "Hoover exemplified the ideal of individualism and the self-made man. His expertise as a mining engineer made him a millionaire by age 40. Having been raised in the Quaker traditions of being humane and generous to others, Hoover embarked on a course of public service for the rest of his life."
Hoover certainly came a long way, but his was not exactly the rags-to-riches story of a man who accomplishes everything on his own. While he was not born to wealth like Theodore Roosevelt, neither was not born in a frontier cabin like Abraham Lincoln. For that matter, he also was not born to freedmen in the Reconstruction South. He was born to successful parents in a very small single-family home in a growing community of about 500 people.
His father, Jesse Hoover, owned a blacksmith business. That business outperformed competing smithies in town, a a uccess that the NPS attributes to "Jesse's friendliness, honesty, and strong work ethic." As his income grew, Jesse Hoover sold his blacksmith shop and bought a more lucrative farm implements business. This earned enough money to move the family to a much larger house up the hill, the boyhood home that "Bertie" Hoover remembers.
The family's financial success was short-lived. Jesse Hoover died when Bertie was six, and his mother died four years later. Their three children were divided among relatives. However, Bertie was fortunate to live in a supportive community of Quakers in which his mother Hulda Hoover had been a religious leader. Several relatives, and even his schoolteacher, offered to take him. After a year with local relatives, Hoover's family decided to send him to Oregon to live with a successful uncle, Dr. Henry John Minthorn.
Though he was an orphan, Bertie had financial resources. His mother had saved $850 from Jesse's insurance policy for Bert to go to college. That was a sizeable sum in the 1890s, equivalent to perhaps $20,000 today. A recruiter for the brand-new Stanford University contacted Dr. Milton and successfully recruited his ward. First-year tuition at Stanford was free. With his mother's nest egg as a base, Hoover worked to cover his other costs.
Hoover earned a geology degree and went to work immediately as a mining engineer in California's gold mines. His work later took him to Australia, China, and Europe, where he worked as a consultant. While working at his consulting firm in London, Hoover helped Americans return to Europe when the Great War broke out in 1914. After this success, people invited him to organize relief for Belgium, a neutral country that had become a major battleground when the Germans invaded. Reflecting his Quaker beliefs in service to community, Hoover answered the call.
His relief work was a great success, expanding throughout Europe. He even provided food relief to both sides in the Russian Civil War. These successes catapulted Hoover into the public eye. Though some wanted him to run for president in 1920, he ended up serving both Harding and Coolidge as Secretary of Commerce. Success in that role made him a successful presidential candidate in 1928.
That story certainly provides the material for Hoover's view of his own success. He did indeed rise from a small town to the presidency through hard work, education, and faith. Even so, that self-image downplays the helping hands he received. His father was a successful small businessman, as were others in his family. That family came to the rescue when his parents died. His inheritance helped him through college, as did the generosity of Jane and Leland Stanford in building their university.
The town of West Branch also provided Hoover with a lot of social capital. It had been settled mostly by the Society of Friends, as the Quakers are formally known. Hoover's extended family was part of the early group who built West Branch, and civic leaders. The Quaker community instilled him with the values that served him well, "education, thrift, and individual enterprise."
In addition to teaching visitors about the Quakers at Hoover NHS, the NPS idealizes Iowa small-town life. The interpretive plan says that "The park presents the opportunity for visitors to experience the serenity of the landscape and explore the simplicity of the small town rural character with all of their senses." This simplicity helps illustrate Quaker values of simplicity as well.
However, small-town life here was less bucolic than the NPS imagines. Those who explore the entire website will find stories about ten houses in the historic district (the Garvin, Hayhurst, Leech, Mackey, Miles, C. E. Smith, P. T. Smith, Staples, Varney, and Wright homes). Many coincided with Hoover's days in West Branch, but several were built after he had moved to Oregon. The house histories on the website mention that three of these homes went through foreclosure, the Hayhurst (1878), Garvin (1885), and Leech (1886) homes. The park does not say this, but those years coincided with a national decline in per capita income in the 1880s, a decline associated with the Great Depression of 1873-96.
The financial traumas that must have been associated with these foreclosed mortgages provide a view of American capitalism that differs considerably from what the NPS presents at the site. This was not merely a community that valued education, hard work, and faith, but a community where some hard-working people lost their homes to the local bank or real estate developer. These frequent foreclosures — three of the ten historic homes in eight years — contrasts with Hoover's memory that "In consequence of plain living and hard work, poverty has never been their lot."
A more realistic sense of how West Branch connects to the national and global economies might make for some good story opportunities. The park brochure notes that Hoover's ideals of individualism and charity pointed in different directions during the Great Depression. It might go further and explore how his town's economic difficulties shaped both of those values. As we now know, those values were a poor guide to policy-making in Hoover's presidency.
Hoover's failure to address the Depression paved the way for Franklin Roosevelt's New Deal, with large-scale government intervention in the economy far beyond what Hoover was willing to do. That set the stage for the great debates of the twentieth century, with presidents such as Lyndon Johnson expanding the role of government while Ronald Reagan and others sought to decrease it. Interestingly, Hoover later found a role in the expansion of government. He led two "Hoover Commissions" on making the executive branch run more efficiently, one for Truman and one for Eisenhower. However, the park does not connect this fact to any larger issues in American history.
The park's current Long-Range Interpretation Plan intends to make the Depression of 1929-39 a bit more visible than it currently is. Those recommendations were not yet visible on-site in 2012, though the adjacent Presidential Library does not shy away from the Depression years.
Because the Hoover family played a major role in establishing the national historic site, interpretation here stays close to his own self-image. That story belongs here, but it should also connect to larger and more complicated stories about the political economy of small-town America.
Adapted from "Telling America's Stories," a book manuscript by Robert Pahre. For questions and comments, email him at pahre@illinois.edu