IT NEWS
FACILITIES NEWS
HR NEWS
EVENTS AND TRAINING
---
ANNOUNCEMENTS: University Librarian Note
Check back next month for a note from Interim Dean of Libraries and University Librarian Chris Prom.

ANNOUNCEMENTS: Savvy Researcher Spring 2023
The Savvy Researcher Spring 2023 schedule is extra-special this semester with lots of new workshops! Check to see if any catch your eye – they are excellent for professional development.
From the folks at Grainger – these sessions are all taught in either Grainger Commons or the IDEA Lab:
And many more! Here are just a few:
With many thanks to our amazing colleagues, our graduate assistants practicing their teaching, and our campus partners!
ANNOUNCEMENTS: Cheers for Peers
To view the full Cheers for Peers submissions please view the Growing People blog.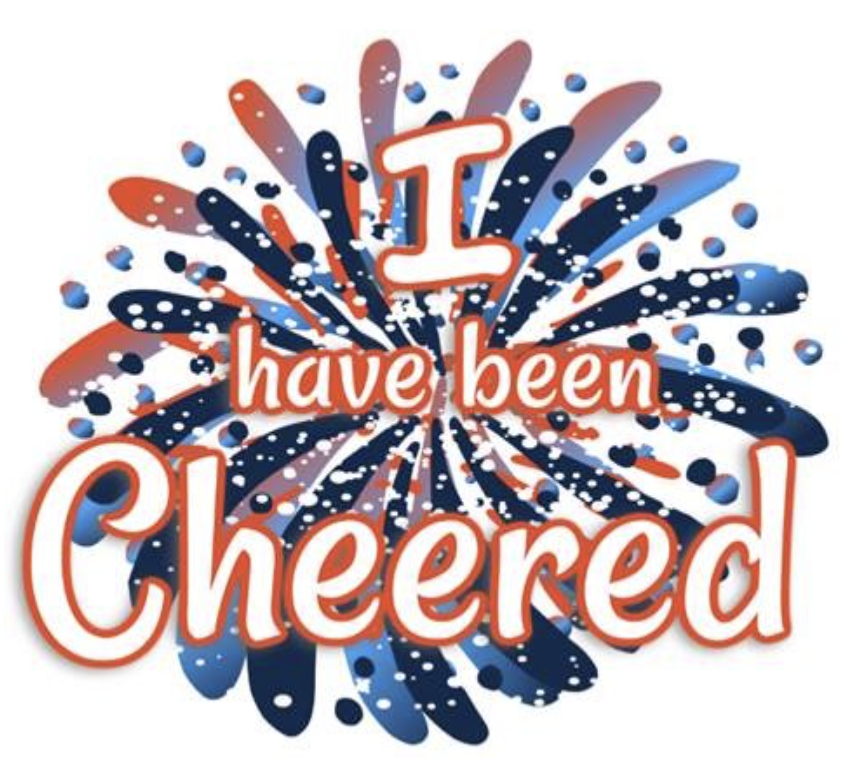 Library Human Resources is happy to announce this month's Cheers for Peers submissions. The following Library employees have been cheered by their peers:
George Gottschalk
Katie Slough

ANNOUNCEMENTS: Did You Know? A Monthly Factoid from Library Assessment
The Library is conducting the Ithaka S+R Faculty Survey from January 31 to February 28 (IRB Protocol Number 23438). This survey, developed by Ithaka S+R (https://sr.ithaka.org/), collects faculty, researchers and instructors' practices and attitudes with respect to library services. The Library has conducted the same survey in 2013 and 2019. The 2023 survey results will be available in late Spring 2023.
"The Role of the Library" is a key set of questions of this survey. These questions ask participants to rate the importance of the following library functions:
The library serves as a repository of resources—in other words—it archives, preserves, and keeps track of resources (Archive)
The library pays for the resources I need, from academic journals to books to electronic databases (Buyer)
The library serves as a starting point or "gateway" for locating information for my research (Gateway)
The library supports graduate students in conducting research, managing data, and publishing scholarship (Graduate Support)
The library provides an informal academic environment and space that supports student learning (Physical Space)
The library provides active support that helps to increase the productivity of my research (Research Support)
The library supports and facilitates my teaching activities (Teaching Support)
The library provides access to technology resources that support student learning (Technology Access)
The library helps undergraduates develop research, critical analysis, and information literacy skills (Undergraduate Support)
This infographic shows how Illinois participants rated these functions in 2019. 94% of the participants view the Library's "buyer" role to be important. A FAQ for the survey administration can be found at (https://www.library.illinois.edu/staff/assessment/libsurv/ithaka-sr-faculty-survey-2023-faq/). The 2013 and 2019 survey results can be found on the Library Assessment website (https://www.library.illinois.edu/staff/assessment/libsurv/).

ANNOUNCEMENTS: Diversity, Equity, Inclusion, and Accessibility (DEIA) Task Force Meeting Minutes
The DEIA Task Force concluded their charge in December and its final report will be shared in the coming weeks, including tasks, accomplishments, recommendations, and next steps.
Minutes from past DEIA Task Force meetings are online on the Task Force web page.

ANNOUNCEMENTS: Collection Development Committee Notes
The most recent meetings minutes of the CDC are posted at:
https://www.library.illinois.edu/staff/committee/collection-development-committee/

ANNOUNCEMENTS: Content Access Policy & Technology Meeting Minutes
The meeting minutes of CAPT (including workgroup reports) are posted at:
https://www.library.illinois.edu/staff/committee/content-access-policy-technology-capt/

ANNOUNCEMENTS: Recognizing Excellence
New on the Recognizing Excellence blog:
Please share your award, recognition, or grant! To initiate a request for publicity, employees (or their supervisors) should submit this Awards/Recognitions/Grants Publicity Request Form.

IT NEWS: Skype for Business Retirement
After the spring semester, on May 17, 2023, Technology Services will retire Skype for Business as the campus phone service provider and transition phone services to Microsoft Teams. If you have not used Teams much, there will be multiple opportunities to learn more about the application before the transition. Library IT will be holding some training demonstrations during IT office hours throughout the spring semester (dates to be announced in Libnews), and these resources are also available for anyone to browse:
If you have any questions, do not hesitate to contact Library IT at help@library.illinois.edu or 217-244-4688.

FACILITIES: Facilities Update
Tim Newman, Assistant Dean of Libraries for Facilities
As a new semester has started, the Facilities Team wanted to remind everyone of a few general procedures and policies:
For any facility-related request(s) such as furniture needs, key requests, event setup, general maintenance, and remodel, or when not sure, please submit a ticket request.  This way all of Facilities can track the request and ensure that we are providing the best customer service for you. These links will help with varied ticket submissions:

-Team Dynamix (general facility/default request): https://go.library.illinois.edu/logaticket
-Key Request Form: https://www.library.illinois.edu/staff/facilities/keyrequest/
-Event Checklist: https://www.library.illinois.edu/staff/wp-content/uploads/sites/24/2019/02/EventCheckList-Revised-2019.02.08.xls

For shipping/delivery, please bring any shipments to Shipping/Receiving the day prior. We make daily deliveries starting at 8:00 am, as well as, multiple deliveries throughout the day.  We try to accommodate rush orders, but request at least a day's notice. Additionally, for any packages being shipped FedEX or UPS, please have them by noon at the shipping/receiving desk at the Main Library. Lastly, ensure that you please provide as much detail regarding the order as possible (vendor, quantity, price, etc.).
For a complete list of projects in planning and construction, please see https://wordpress.library.illinois.edu/staff/facilities/.
Tim Hayden – Library Specialist – Ricker Library of Architecture & Art – 1/23/2023
Xavier Sanchez – Distribution Clerk – Library Facilities – 2/6/2023
Mike Nelson – Data Analyst – Library IT – 1/20/2023

HR NEWS: Civil Service Vacancies
Library Operations Associate – Acquisitions & Cataloging Services – Offer pending
Events Administrator Assoc – Advancement – Email screenings completed
Library Specialist – Funk ACES late night – Interviews
Library Specialist – Central Access Services – Interviews
Senior Library Specialist 50% – Slavic Reference Services/IAS – Closes 1/26/2023
Senior Library Specialist – Scholarly Commons – To be posted
Assistant Distribution Services Supervisor – Library Facilities – To be posted

HR NEWS: Academic Professional and Faculty Open Postings
Head, Mathematics and Computational Sciences Librarian – Mathematics Library – Heidi Imker, Chair
Live on the job board with a closing date of 2/10/2023
Visiting Archives & Literary Manuscript Specialist – Rare Book & Manuscript Library – Cait Coker, Chair
Live on the job board with a closing date of 2/28/2023

EVENTS AND TRAINING: Staff Events Calendar
To see the most up-to-date staff events calendar, please visit https://uiuc.libcal.com/calendar/staff.

EVENTS AND TRAINING: CARLI Professional Development Alliance Events
To view more information about these events and to register, visit the CARLI Event Calendar.
February 1 at 11 AM: CARLI OER Faculty Workshop: Supporting Academic Success: Open Educational Resources and Affordable Course Materials
February 2 at 10 AM: Hiring Library Staff: Best Practices for the Interviewer
February 3 at 12 PM: Implementing Metadata Best Practices for Trans and Gender Diverse Resources at Your Institution
February 7 at 1 PM: 10 Errors is Academic Library Architecture and How to Combat Them
February 8 at 12 PM: Let's Talk About Self-Care
February 8 at 1 PM: What to Know About Web Accessibility if You Work in a Library
February 9 at 12 PM: Analysis and Design for Info Lit Instruction
February 9 at 12 PM: Library Freedom Project: Privacy is Precious
February 14 at 10 AM: Honest Conversations: Over-servicing at Your Library at the Expense of a Healthy Life Balance
February 15 at 1 PM: Accessibility in Library Instruction
February 16 at 9 AM: Best Practices in Programming for Adults with Developmental Disabilities
February 21 at 1 PM: The Person in the Mirror
February 23 at 10 AM: CARLI OER Faculty Workshop: Supporting Academic Success: Open Educational Resources and Affordable Course Materials
February 23 at 1 PM: CARLI Counts Curriculum Release Party!
February 28 at 3 PM: Managing Escalated Patron Situations Face to Face: Your Questions Answered

EVENTS AND TRAINING: NISO Webinar: Collaborative Collections: Shifts in Collection Development, Resource Sharing, and Management
February 8 at 10 AM
Libraries around the world see collaboration as a viable solution for providing access to a wide range of information resources and collections. Initiatives such as the US Ivy Plus Confederation – a union of 13 academic libraries working together to improve discovery of and access to information by leveraging their collective assets – have already served as a proof of concept. Changes in the economic environment mean that these sorts of adaptations will become more commonplace, if not essential to ensuring that library services are efficient, effective, and engaging. In this roundtable discussion, practitioners and decision-makers will discuss what is needed to effectively manage collaborative collections and emerging support needs. What work needs to be done? What kind of systems would be useful? What hurdles need to be overcome?
Confirmed Speakers include Miranda Bennett, Director of Shared Collections, California Digital Library, Andy Breeding, Senior Product Manager, OCLC; Boaz Nadav-Manes, University Librarian, Lehigh University; Susan Stearns, Project Director, Eastern Academic Scholars' Trust (EAST); and Maurice York, Director, Library Initiatives at Big 10 Academic Alliance.
Please email training@library.illinois.edu for login credentials or recordings

EVENTS AND TRAINING: Women in Science Lecture: Dr. Decker French
February 9, noon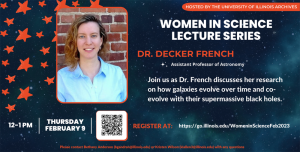 Assistant Professor of Astronomy, Dr. French will discuss her work on how galaxies evolve over time and co-evolve with their supermassive blackholes.
The University of Illinois Archives' monthly Women in Science Lecture Series features speakers from across the University of Illinois at Urbana-Champaign's diverse and multidisciplinary scientific enterprise. The lecture series seeks to highlight the important innovations and contributions of women in the sciences at the University of Illinois, and center the importance of documenting women scientists and engineers to create a diverse and inclusive archival record. This lecture series will take place over Zoom on the second Thursday of every month from 12:00 to 1:00 pm. 
Registration link: https://go.illinois.edu/WomeninScienceFeb2023

EVENTS AND TRAINING: Love Data Week
February 13 – 17
The Scholarly Commons, in collaboration with the Research Data Service, will be participating in Love Data Week, an international celebration of Data. The theme for this year is Data: Agent of Change. To celebrate this year's event, we will be having a series of workshops that will not only build campus community lovers of data but will highlight various aspects of research data. Here is a link to the list of events we have planned: Love Data Week Events.

EVENTS AND TRAINING: ACS Fund Reports and Q&A
February 15 at 1 PM
ACS will do a refresher overview of fund reports then open up to Q&A. If there are specific questions or topics you would like us to cover, please feel free to let ACS know, or bring your questions to the session. The session will be recorded and posted afterwards.
Zoom information was shared via LibNews email from George Gottschalk on January 17.
---
If you would like to submit content for the March issue of Library Office Notes, please submit it to Heather Murphy or Tom Teper by February 24, 2023.