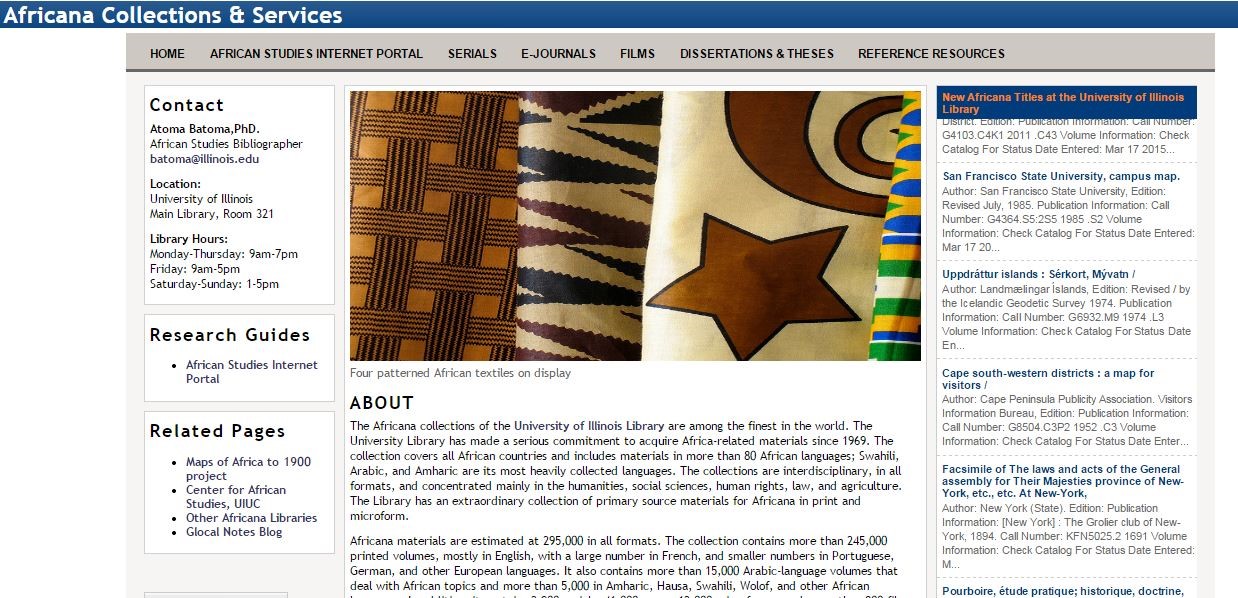 With much help from the Information & Technology Department and hard work from various International and Area Studies Library employees, Africana Collections and Services is proud to announce the launch of its renovated website. This site serves as both a launching pad for Africana researchers throughout the U of I academic community and a place to advertise the wares of our print and digital collections. More than anything else, creators and contributors would like to facilitate access to a variety of Africana resources from one central and reliable location.
The Way Back Machine, a veritable internet archive, allows us to view former iterations of our site. The previous site, active as recently as 2013, relied on a simplistic layout with minimal colors and even fewer images.
One goal in the new site's construction was to make the interface more dynamic and visually appealing. The model used for the new site was based on the Middle East and North Africa Studies' page design. Note the multiple tabs that are easy to navigate, the prominent imagery to represent the region and the columns that lead to additional resources of interest and newly acquired titles.
The Africana group followed suit and developed a closely similar theme. Highlights on the new site include the scrolling RSS feed that highlights new titles in the catalog; the Dissertations & Theses page now features a downloadable pdf listing original works written by U of I graduate students from 2000-2014; and colorful  images representing both West and East Africa were culled from open source sites like Wikimedia Commons and Flickr to bring life to the E-Journals and Reference Resources pages.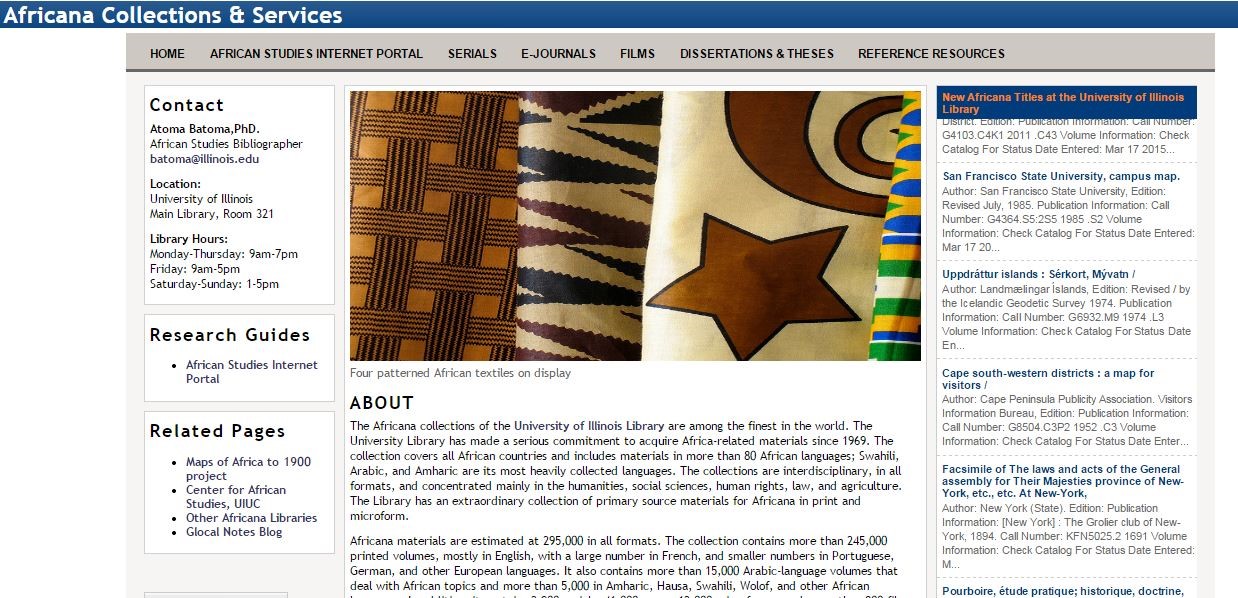 As we continue to adapt the site to meet our users' needs, we discuss a series of additional possibilities. For example, users might benefit from more instruction on navigating the Africana Film Database. Some preliminary information, for the moment, regarding the scope of the collection is provided under Reference Resources -> Research Guides -> Africana Film Database. Additionally, we have the special challenge of adapting a proper code to display works from the Africana collection in our RSS feed in languages of African origin and colonial languages, too. English, French and Portuguese, to name a few European languages, are spoken widely across the continent. However, we are verifying our settings to allow us to select works from the following languages as well:
Afrikaans, Akan, Amharic, Arabic, Bambara, Bamileke, Banda, Basa, Beja, Bemba, Bini, Creoles and Pidgins, English-based, Creoles and Pidgins, French-based, Creoles and Pidgins, Portuguese-based, Cushitic, Dinka, Duala, Dyula, Efik, Ethiopic, Ewe, Ewondo, Fang, Fanti, Fon, Fula, Ga, Ganda, Hausa, Herero, Igbo, Ijo, Kamba, Kanuri, Kikuyu, Kinyarwanda, Kongo, Konkani, Kpelle, Kru, Kuanyama, Lamba, Lingala, Lozi, Luba-Katanga, Lunda, Luo, Malagasy, Mandingo, Masai, Mende, Mossi, Ndebele (Zimbabwe), Ndonga, Niger-Kordofanian, Nilo-Saharan, Northern Sotho, Nubian languages, Nyanja, Nyamwezi, Nyankole, Nyoro, Nzima, Oromo, Papiamento, Rundi, Sandawe, Sango, Serer, Shona, Sidamo, Somali, Songhai, Sotho, Sukuma, Susu, Swahili, Swazi, Tigre, Tigrinya, Timne, Tonga (Nyasa), Tsonga, Tswana, Tumbuka, Twi, Umbundu, Vai, Venda, Walamo, Wolof, Yoruba and Zulu
The site is as robust as ever with the same amount and variety of resources. Now, however, it is more attractive to the eye and more current in its scope of documentation when it comes to works produced by our very own peers. We encourage you to explore, and after visiting the home page, check out our African Studies Internet Portal for a broad array of diverse resources and Other Africana Libraries that can be of interest to you. We send special thanks to Helen Zhou, Sabrina Jaszi, Robert Sarwark, Jon Gorman, Robert Slater, Atoma Batoma and Joe Lenkart.