This is an archived page listing exhibits from 2015 through 2019.  Please see our Committee page for more information.
---
North South Corridor November 2019
The #HerServiceUIUC exhibit focuses on Women in the Military while highlighting moments in the history of the University of Illinois.  The exhibit not only contains a timeline but also pulls out specific topics of interest in regards to being a woman in the military such as the accommodations needed when deployed, as well as mental health needs when female soldiers come home.  This exhibit was created in conjunction with the Chez Veteran Center.
Marshall Gallery November 2019
10 Years Rising: Celebrating the Women's Resources Center.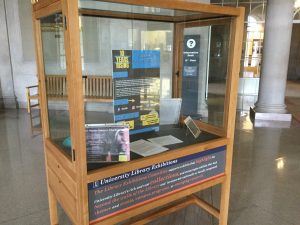 ---
March 2017
150 for 150: Celebrating 150 Years of Women at the University of Illinois is displaying in the North South Corridor through March.
Sponsor: Cindy Ingold
Contact: Cindy Ingold

The Art of the Thesis is displaying in the Marshall Gallery through February.
Sponsor: Graduate Student Exhibit Contest
Contact: Anna Trammell
NOTE: "The Art of the Thesis" is curated by Kelly Applegate, Graduate Assistant, Illinois Digital Environment for Access to Learning and Scholarship (IDEALS).
Kelly is one of two winners of this year's Graduate Student Exhibit Contest, an event made possible by the very generous support of the late Dr. C. Barber Mueller.
---
November 2016
Veterans' Day
Sponsor: University of Illinois Library; Chez Family Center for Wounded Veterans in Higher Education
Contact: JJ Pionke
---
October 2016
Youth Literature Festival
Sponsor: Social Science, Health & Education Library
Contact: Nancy O'Brien
---
September 2016
Partitions and Empire: Ireland, India, Palestine and Beyond
Sponsor: International and Area Studies Library
Contact: Rini Bhattacharya Mehta; Mara Thacker 
---
August 2016
A Century of U.S. National Parks
Sponsor: Main Library, Central Access Services
Contact: Sally van der Graaff and Debora Pfeiffer

---
May 2016
Honoring Our Graduating Student Workers
Sponsor: Library Human Resources
Contact: Cindy Kelly
Winner #3, C. Barber Mueller Prize for Excellence in Exhibition Design: Books: Autobiographies
Sponsor: University of Illinois Library Exhibition Committee
Contact: Abigail Connick
---
April 2016
Books Without Words

Sponsor: Social Science, Health, & Education Library; University of Illinois Library Exhibition Committee
Contact: Kim Looby; Mary Baker
Honoring Our Library Staff
Sponsor: Library Human Resources
Contact: Aneitre Johnson; Skye Arseneau
---
March 2016
Winner #2, C. Barber Mueller Prize for Excellence in Exhibition Design: A Snapshot of Women's History at the University of Illinois, 1870-Present
Sponsor: University of Illinois Library Exhibition Committee
Contact: Leanna Barcelona
Brazil and Olympic Sport at the University of Illinois is open in the North-South Corridor and will run through March.
Sponsor: University of Illinois Library Exhibition Committee
Contact: Antonio Sotomayor; Chris Prom
---
February 2016
Winner #1, C. Barber Mueller Prize for Excellence in Exhibition Design: Art Books and Binding

Sponsor: University of Illinois Library Exhibition Committee
Contact: Kimberly Stelter
DRES Pioneer Timothy Nugent
Sponsor: Disability Research & Educational Services (DRES); Social Science, Health & Education Library
Contact: JJ Pionke; Pat Malik
---
January 2016
Honoring U of I Faculty
Sponsor: Office of Collections
Contact: Douglas Heintz
The Making of a Library Exhibit
Sponsor: Jody Waitzman
Contact: Jody Waitzman
---
December 2015
From the Illiac Suite to the Sal-Mar Construction: Illinois' Pioneering Experimental Music Studio
is
Sponsor:
Sousa Archives and Center for American Music
Contact:
Scott Schwartz
Honoring U of I Faculty
Sponsor: Office of Collections
Contact: Douglas Heintz
---
November 2015
Veterans' Day 2015
Sponsor: Social Sciences, Health, and Education Library
Contact: JJ Poinke
---
October 2015
Homecoming

Sponsor: Student Life and Culture Archives
Contact: Ellen Swain
History of Calligraphy
Contact: Laila Hussein Moustafa
---
September 2015
Explore International Comics @ Illinois
Sponsor: International and Area Studies Library
Contact: Mara Thacker
Celebrating the Biodiversity Heritage Library
Contact: Kelli Trei and Nicole Helregel