Current Exhibits
North South Corridor 
The #HerServiceUIUC exhibit focuses on Women in the Military while highlighting moments in the history of the University of Illinois.  The exhibit not only contains a timeline but also pulls out specific topics of interest in regards to being a woman in the military such as the accommodations needed when deployed, as well as mental health needs when female soldiers come home.  This exhibit was created in conjunction with the Chez Veteran Center.
Marshall Gallery
10 Years Rising: Celebrating the Women's Resources Center.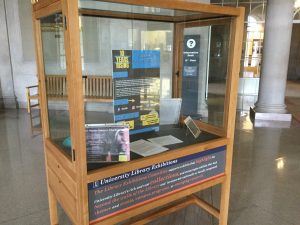 ---
News
Graduate Student Exhibit Contest   
The Library Exhibitions Committee is sponsoring a contest open to all graduate students who work in any of the university libraries. The contest opens October 21, 2019; proposals are due November 11 by 5:00 p.m. The winner will be notified by November  15, 2019. To enter the contest, please submit a proposal for an exhibit that promotes a library resource or highlights a special subject or collection within the library. One winner will be selected by the Exhibitions Committee to build and display an exhibit in the Marshall Gallery* of the main library in April 2020. The winner will receive a prize of $200 and will have an allowance of $100 for printing costs. The student is expected to follow preservation concepts.
For a complete list of contest regulations, visit https://www.library.illinois.edu/staff/committee/exhibitions-committee/. Scroll down to Graduate Student Exhibition Contest. For more information, contact the exhibitions committee excom@library.illinois.edu.
*The Marshall Gallery is located in the first floor foyer by the east entrance of the main library.
Printing Guidelines
Need an easy guide for printing posters and materials for your upcoming exhibit, refer to our Printing Guidelines!
Have a great idea for a Library exhibit? Now's the time to showcase it!
The Library Exhibits Committee is seeking exhibits for the Main North-South Corridor  and Marshall Gallery. To submit an exhibit request form visit https://illinois.edu/fb/sec/2298847.
All topics for Library exhibits are welcome. Preferable are those that either highlight the University Library's rich and vast collections or that look beyond the walls of the Library and attempt to incorporate nationally or locally recognized themes and events, campus programs, or emerging research. All exhibit topics should be presented in a thoughtful and inclusive way. Questions? Contact the Library Exhibits Committee at  excom@library.illinois.edu