invitation to first Voice reading of the year!

Do you have a craving for creativity? . . .  A hankering for horror? . . .  A thirst for thrills and chills?
Then, oh boy, do we have an event for you!
Join us 
next Thursday, October 14th at 7pm
, as we revel in the fictional and poetic stylings of UIUC's very own MFA writers, Deon Robinson, Ali Shuger, and Nina Sannes. That's right, it's time for the first VOICE Reading of the year, to be held in-person at 
The Literary Book Bar in downtown Champaign
! 
Two upcoming hprc events
Writing for Smile Politely, with editor Julie McClure (Friday, October 15, noon – 1pm, 105 Gregory Hall).  Smile Politely is Champaign-Urbana's online independent magazine, covering art, culture, food, local politics and happenings. They need writers! They also pay writers (not a lot, but it's something). It's great experience in identifying and pitching stories, developing your voice, and getting comfortable writing informational content for a broad audience.
Publishing Fiction in Literary Magazines, with creative writing alumnus John Milas (Wednesday, November 3, 7 – 8pm, online/Champaign Public Library). "Getting published can be a mystery. John Milas will walk you through the process of submitting your short fiction and poetry to literary magazines. Don't miss this opportunity to obtain information and advice on manuscript formatting, cover letters, and much more!" Register to get the Zoom link.  
As always, if you have questions, want to explore options for your future, or need some direction in moving forward, HPRC is there to help:
Also, if you want to double up you can now schedule in-person advising appointments with Anna on Thursday mornings at HPRC!  You'll have a private appointment in the HPRC conference room (105 Greg Hall) and then you can stick around to talk to Julie or Kirstin about career planning.  It's one-stop shopping!
environmental leadership program
Interested in public policy and sustainability issues? Apply now for iSEE's new Environmental Leadership Program (ELP), designed to prepare Illinois undergraduates for leadership roles in the sustainability field. In the Spring 2022 program, participants will learn about policy-making at the local and state levels, develop real-world environmental policies, and present proposals to legislators and decision-makers.
The program includes a two-day training in January, weekly presentations, and four days of experiential learning in Springfield and Urbana-Champaign during Spring Break. Students from all backgrounds, class standings, and majors are encouraged to apply! Applications are due October 31.
PRE-LAW 101 WORKSHOP SERIES
Our Pre-Law 101 Workshop series is designed specifically for freshman and sophomore students and strives to provide students with a broad overview of the legal profession, legal education, and pre-law student expectations.  The Workshop is divided into Sessions I and II, dates below), and students are expected to attend one of each (but don't have to do so within a single month).  Interested students may register and learn more about the series online:
Pre-Law 101 – Session I: October 12 and  November 3
Pre-Law 101 – Session II: October 19 and  November 10
MINOR IN LEGAL STUDIES INFORMATION SESSION
October 21  |  1:30 pm  | via Zoom
We will be hosting an information session on the College of Law Minor in Legal Studies with Professor Jennifer Pahre, Director of Undergraduate Legal Studies.  This program will provide a general overview of the minor, including requirements, and provide an opportunity for students to ask questions.  The program is designed for all class years and interest levels.  Students may register online to attend.
Paid Student Focus Group Opportunity
On behalf of the Office of the Provost, the Center for Innovation in Teaching and Learning (CITL) is currently seeking student participants for our focus groups to help choose questions for a new Teaching Evaluation System on campus. You will receive a $10 Amazon e-code and refreshments for participating.  Sign up! https://go.illinois.edu/TESFocusGroup  (NOTE: Amazon e-codes are not available to international students, unless already employed by the university.) Questions? Contact CITL  citl-data@illinois.edu.
Don't forget these!
ESC Midterm Study Sessions
Last Midterm Study Session TONIGHT,  Friday, October 8th from 4:00 p.m.-8:00 p.m.! There will be a collaborative workspace area in the Mary Kay Peer lounge, with free coffee and snacks available. All are welcome!
Test Anxiety Workshops
Could you benefit from a workshop that provides strategies for managing anxiety around taking tests? The Counseling Center hosts drop-in workshops throughout the semester with tips on:
Remaining calm during tests and exams.
Getting the most from your study time.
Preparing effectively for tests and exams.
To register, please visit counselingcenter.illinois.edu/TestAnxiety.  The in-person sessions will take place in Lincoln Hall room 1064.
Tuesday, November 30, 4-5 p.m. (in-person)
Tuesday, December 6, 3-4 p.m. (in-person)
There are simple, effective ways that can help you perform well on tests and not let anxiety get the best of you! These workshops are free for students.
In Focus Support Series
In Focus is a four-week series that offers education and support for students who commonly experience difficulties associated with attention deficit/hyperactivity disorder (ADHD). You do not need to have an official diagnosis to get involved.  This series is interactive and gives students practical tips for improving focus.
We'll cover:
• Goal Setting
• Procrastination
• Time Management
• Stress Management and Self-Care
In Focus will be offered Wednesdays from 1 to 2:20 p.m. October 27 until November 17.
For more information and to register, please go to counselingcenter.illinois.edu/InFocus.
Registration is limited, so please sign up as soon as possible to ensure you get a place!
OMSA Fall Tutoring Offerings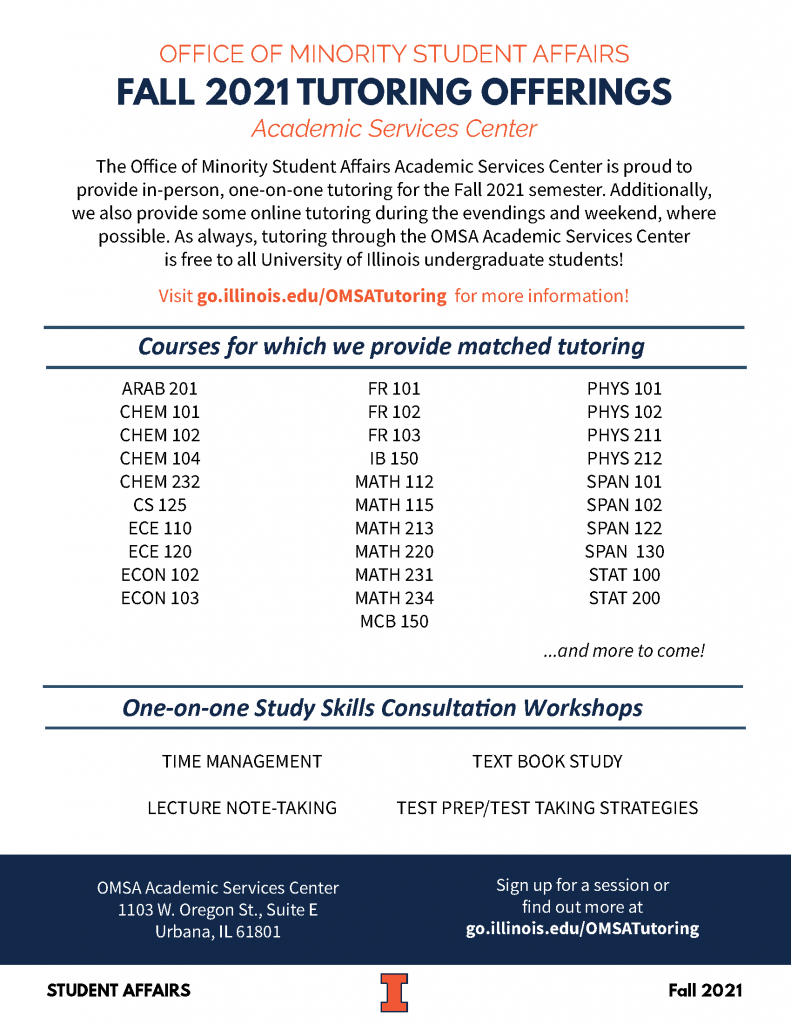 Interested in a career in information science?

The I-School is partnering with 26 institutions to host the inaugural INFOcon 2021 event, which will showcase the breadth and depth of the information profession. This event is intended for prospective students interested in learning about career paths and research topics in information sciences.
The event is free, and attendees are welcomed to join sessions that interest them the most.
Registration is limited. RSVP today by clicking HERE.
Sunday Resume, Cover Letter, and LinkedIn Reviews
Get feedback on your resume, cover letter, and LinkedIn profile without having to schedule an appointment. Reviews are via Zoom. Click here to begin your Sunday drop-in review:
go.illinois.edu/SundayDropins.
MUSE scholars program deadline extended
This fall, due to the ongoing pandemic, the 
MSU Department of English
 will host the 3
rd
 Annual MUSE Scholars workshop for prospective graduate students virtually in November. 
The application deadline has been extended to October 11th.
 The dates of the virtual program will be forthcoming soon. The 
MUSE Scholars Program (Mentoring Underrepresented Scholars in English)
 was launched during the fall of 2018, with an 
inaugural cohort
 of eight scholars. The Fall 2021 workshop MUSE workshop is directed at prospective English graduate students from underrepresented groups, including students of African American, Latinx and Chicanx, Asian American, Native American, and Indigenous descent. The all-expenses-paid workshop will allow students to learn more about the English Department, visit graduate classes and co-curricular activities (lectures, film screenings, 
Research Workshops
), meet with our graduate faculty and graduate students, and receive individual feedback from the faculty on their application materials for graduate school. Students will also have the opportunity to present their research to faculty. The workshop aims to introduce prospective students to a robust culture of mentoring essential for a rewarding graduate school experience, and a thriving life in academia.
Montage arts journal accepting submissions
Montage Arts Journal, the university's undergraduate literary magazine, is now open for submissions! We welcome all publishable forms of art—photography, paintings, sketches, digital art, collages, sculptures, poetry, prose, creative nonfiction, drama, and more. This semester's reading period closes December 15th, but submissions can be emailed to montagejournal@gmail.com anytime before then. Please see https://montagejournal.wordpress.com for more information. We look forward to reviewing your work!
curious about research? Ask an ambassador!
Undergraduate Research Ambassadors are accepting virtual meetings with students throughout the semester. Staff from the Office of Undergraduate Research are available for one-on-one virtual and in-person meetings to answer any questions you have about undergraduate research at Illinois.
Schedule an appointment today at: http://go.illinois.edu/AskOUR
call for submissions
The Foundationalist, an intercollegiate literary journal out of the University of Iowa, accepts undergraduate literary essays, poetry, fiction, and creative non-fiction. There are no page limits or themes.  If selected, the author's writing will be published on academia.edu and in print format.
The deadline for submissions is October 10th, 2021 at midnight. More information can be found on www.thefoundationalist.com and submissions and other queries can be sent to thefoundationalist@gmail.com.
illinois club scholarships
The Illinois Club awards a number of scholarships annually.  The following three are open to rising juniors and seniors in all majors including English and creative writing (one is specifically for pre-teaching students):
Global Focus Award
Open to any major. Applicants must have international experience or an internationally focused program of study. For example: second-language study, study abroad, internships or volunteering abroad, international career plans. Applicants must demonstrate how their internationally focused work and/or volunteer plans will make a difference in the world.
Humanities and Social Sciences Award
Open to all students majoring or minoring in the Humanities or Social Sciences. Applicants must demonstrate the benefits that studying the Humanities or the Social Sciences provides to themselves and their community.
Isabelle Purnell Education Award
Open to students earning a Secondary Education Certificate or College of Education majors. Applicants must demonstrate how they hope to make a difference in the classroom and in students' lives.
Apply at go.illinois.edu/TICScholarship  by October 16.
Eligibility:
You must be an undergraduate at the University of Illinois Urbana-Champaign, have earned at least 60 credit hours by the beginning of the Spring 2022 semester, and graduate no earlier than December 2022.
A minimum GPA of 3.0 at both the time of application and winning of award is also required.
Contact: scholarship@theillinoisclub.org
News writers wanted
The College of LAS Office of Communications and Marketing is seeking news interns to help keep print and online audiences informed on the activities of alumni and the latest developments on campus. Are you able to write well and accurately by a deadline? Are you comfortable conducting interviews? Does the idea of covering research, teaching, and student life in the largest college on campus appeal to you? If so, apply here. 
atlas internship program
ATLAS is interviewing for the Fall 2021 semester! Applications are accepted from all undergraduate LAS students. Open positions include content creation, social media strategist, communications, and website content. Internships consist of a minimum of 10 hours a week and can be online, in person, or hybrid. If you are interested, apply here.
Tuesday @7 counseling center workshops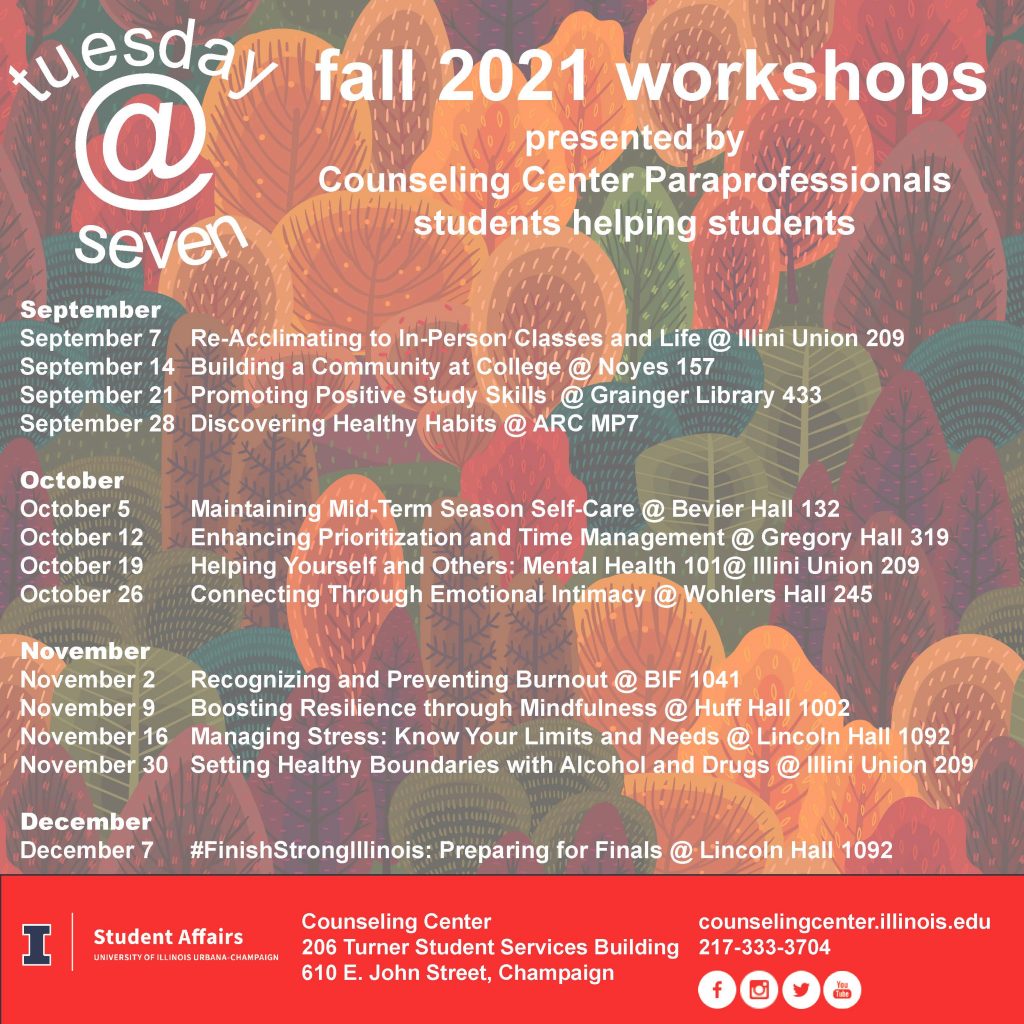 LUNCH ON US: DISH IT UP
Need to talk to someone?
The Counseling Center has resumed face-to-face services for all counseling modalities except group (which will remain on Zoom). They are also offering online scheduling for initial appointments and you are also welcome to reach out to the embedded LAS counselor, Andy Novinska, at anovinsk@illinois.edu.
DATES and DEadlines
CT/Curriculum Changes for Spring 2022
Monday, Oct. 4 through Friday, Oct. 29
Deadline to drop, CR/NCR, or elect Grade Replacement in a full semester course
Friday, Oct. 15
Second half-session courses begin
Monday, Oct. 18
Deadline to add a second half-session course
Friday, Oct. 22