The day prior to the start of second semester classes, I was reviewing the classes I had registered for: Accounting 201, Economic Statistics 203, Calculus 234, and Communications 101 to name a few. None of these topics sparked even the slightest excitement in me. Being a creative minded person, none of these classes offered me with the opportunity to utilize these skills. An hour later, as I was scrolling through my Facebook feed, I noticed that one of my friends had posted about a new 3D printing class, encouraging students to sign up. At first, I scrolled right past it, knowing my severe limitations when it comes to anything technical. However, minutes later, I searched through my Facebook feed for the post. It being my freshman year, I didn't want to waste another semester going from on drawling class to another. So I took the risk, dropped my Communications class due to credit hour restrictions, and applied to register for the class. Looking back, dropping Communications for Digital Making was one of the best decisions I have made in college yet.
Walking into the MakerLab was one of the first times I really felt excitement in one of my classes all year. With MakerBots whirring around the room, creating real objects from digital files as blueprints and plastic filament as substance, I felt extremely overwhelmed by the potential in that room. I might have flooded my friends' Snapchat inboxes that day with endless videos of the MakerBots in action due to my fascination.
The class began and everyone introduced themselves as instructed. Immediately, I noticed three distinctions between myself and my classmates: A) I was the only freshman, B) many had had some experience with creating or a technical background at least and C) most already had a clear idea about what they wanted to do as a career. I had come into this class with zero technical experience and a very slim idea of what I wanted as a career. Already, I was starting to doubt my chances of being successful in this class.
It soon became clear to me that my lack of experience would not hinder my success in the class. What makes Digital Making so special is that every individual is able to pursue their own unique path. Each student enters the MakerLab with a different background and is able to use the technology to build themselves up to wherever they want to go.
So, here is my path, as an unexperienced Freshman with no background in making whatsoever:
3D Modeling
We started the course by playing around with Tinkercad. A very elementary modeling program, Tinkercad gets you started with the basics. Through playing around with basic shapes, you begin to realize the potential of even a simple website like Tinkercad for creation. Through this, you can build robots, phone cases, model planes, dragons, and anything you can imagine up.
Although Tinkercad is a great website for beginners, the class learned very quickly that it is severely limited. We were soon introduced to Fusion360, which is free for students. The day we learned Fusion360 ended up being the most frustrating class I have ever sat through. However, after downloading the software on my computer and playing with it on my own, even I was able to learn the basics…kinda.
Headphone tutorial: https://www.youtube.com/watch?v=ycGNF-NnXNY
Below is my beginning attempts at modeling a snitch.
After those failures, I settled for modeling something a little simpler…
At this point in the course, I began reflecting on the skills I had learned and how I could apply them to the real world. Obviously, 3D modeling is not my forte. However, I believe with this technology, there is something for everyone. The key is blending your passions with the ability to create. My issue was finding that passion to blend with my new making skills.
Learning Alternative Making Technologies
As we neared the end of this course, we began holding our class sessions at the Fab Lab, where we expanded our knowledge of making to various other types of technology. We spent three weeks at the Fab Lab, and each week we learned about a new technology. The weeks we spent at the Fab Lab were my favorite, because the technologies were very easy to use, so I was better able to express my creativity. During these weeks, I used a vinyl cutter, laser engraver, coded with Arduinos, and used an embroidery machine. I began to realize my own potential for making during these sessions. Anyone with an idea is capable of making using the technologies we learned. Creativity is so powerful in that it harnesses the creation of billions of unique ideas. The technologies we now have at our hands are equally as powerful in that they can fabricate these thoughts into existence and make an impact on others' lives.
For example, during my first session in the Fab Lab, we learned how to use the digital engraver. As it was my best friend's little sister's birthday, I decided to use the technology I had just learned to make her a birthday present. Because she is a huge Harry Potter fanatic, I engraved this journal for her with the Marauder's map on the back and her name engraved in as well. As soon as she received it from her mom, she screamed out loud in the car in excitement, which made me super happy that I had been able to make that kind of impact.
In addition, I was also able to get my own sister a gift because of this course. When she heard I was taking a 3D printing class, she gave me one request: find a way to 3D print our cat. Although I never was able to accomplish that, during our 3rd session in the Fab Lab, I was able to embroider our cat for her.
From 2D to 3D
After spending some time in the Fab Lab, I began to think about the things I was passionate about and how I could fabricate those passions. Being one of those people who loves to learn new hobbies, this summer I ventured into learning how to do typography. During one of our class sessions, we were given a lot of free time to work on individual projects. I ceased this opportunity to do a bit of research about the potential of 3D typography. Using what I had learned in the Fab Lab and with a little help from fellow maker Kay, I was able to 3D print one of my typography drawings. I couldn't find one of my original typography designs, so I had to use one that I had replicated.
The file in Tinkercad:
Test print: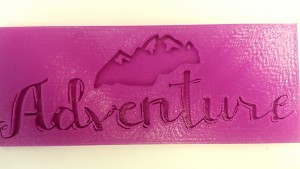 Going through this process allowed me to realize that although I may not be able to proficiently use 3D modeling software to make the next big thing, there still exists a sector in making for me to make my impact through art. I plan on expanding on what I learned about 3D printing the 2D to create even more intricate typography designs this summer.
Takeaway
At the start of this class, I did not think I would be able to create anything useful. However, even though I came in this class with zero technological experience, I can now 3D model and code with Arduinos, which are two things I never imagined myself doing.
In the making world, it doesn't matter what you start out as. Regardless of if you are an engineer, business major, art student, etc., there is an area for everyone to be able to fabricate their ideas. Everyone is a maker. All one needs is a working mind, a few ideas, and everything is possible. The thing about 3D printing is its potential is as large as the creativity of the maker. The more minds that get involved with this technology, the greater its power will become as more and more ideas will accumulate into greater and greater things to come.
I will end this with a picture of me and my 3D printed face. Twenty years ago, this was an impossible. The possibilities for the future are now endless.