Geographic information systems (GIS) are a fantastic way to visualize spatial data. As any student of geography will happily explain, a well-designed map can tell compelling stories with data which could not be expressed through any other format. Unfortunately, traditional GIS programs such as ArcGIS and QGIS are incredibly inaccessible to people who aren't willing or able to take a class on the software or at least dedicate significant time to self-guided learning.
Luckily, there's a lower-key option for some simple geospatial visualizations that's free to use for anybody with a Google account. Google MyMaps cannot do most of the things that ArcMap can, but it's really good at the small number of things it does set out to do. Best of all, it's easy!
How easy, you ask? Well, just about as easy as filling out a spreadsheet! In fact, that's exactly where you should start. After logging into your Google Drive account, open a new spreadsheet in Sheets. In order to have a functioning end product you'll want at least two columns. One of these columns will be the name of the place you are identifying on the map, and the other will be its location. Column order doesn't matter here- you'll get the chance later to tell MyMaps which column is supposed to do what. Locations can be as specific or as broad as you'd like. For example, you could input a location like "Canada" or "India," or you could choose to input "1408 W. Gregory Drive, Urbana, IL 61801." The catch is that each location is only represented by a marker indicating a single point. So if you choose a specific address, like the one above, the marker will indicate the location of that address. But if you choose a country or a state, you will end up with a marker located somewhere over the center of that area.
So, let's say you want to make a map showing the locations of all of the libraries on the University of Illinois' campus. Your spreadsheet would look something like this:
Once you've finished compiling your spreadsheet, it's time to actually make your map. You can access the Google MyMaps page by going to www.google.com/mymaps. From here, simply select "Create a New Map" and you'll be taken to a page that looks suspiciously similar to Google Maps. In the top left corner, where you might be used to typing in directions to the nearest Starbucks, there's a window that allows you to name your map and import a spreadsheet. Click on "Import,"  and navigate through Google Drive to wherever you saved your spreadsheet.
When you are asked to "Choose columns to position your placemarks," select whatever column you used for your locations. Then select the other column when you're prompted to "Choose a column to title your markers." Voila! You have a map. Mine looks like this:  
At this point you may be thinking to yourself, "that's great, but how useful can a bunch of points on a map really be?" That's a great question! This ultra-simple geospatial visualization may not seem like much. But it actually has a range of uses. For one, this type of visualization is excellent at giving viewers a sense of how geographically concentrated a certain type of place is. As an example, say you were wondering whether it's true that most of the best universities in the U.S. are located in the Northeast. Google MyMaps can help with that!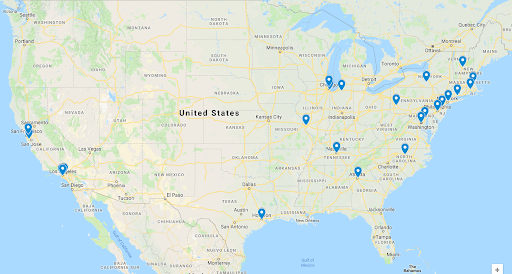 This map, made using the same instructions detailed above, is based off of the U.S. News and World Report's 2019 Best Universities Ranking. Based on the map, it does in fact appear that more of the nation's top 25 universities are located in the northeastern part of the country than anywhere else, while the West (with the notable exception of California) is wholly underrepresented.
This is only the beginning of what Google MyMaps can do: play around with the options and you'll soon learn how to color-code the points on your map, add labels, and even totally change the appearance of the underlying base map. Check back in a few weeks for another tutorial on some more advanced things you can do with Google MyMaps!
Try it yourself!